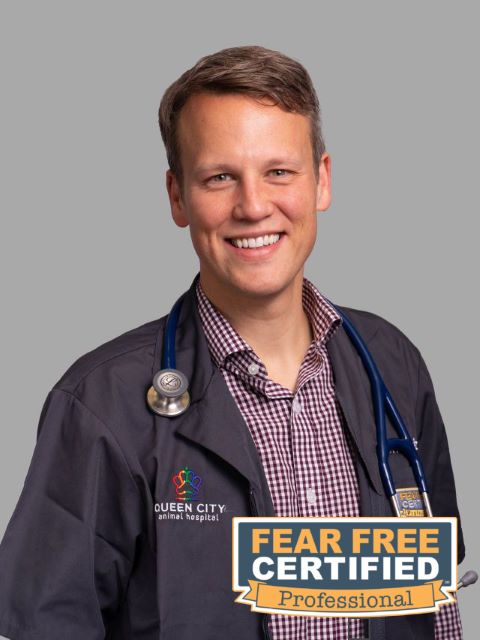 Dr. Jay Hreiz
Owner, Veterinarian
Dr. Hreiz is the owner of Queen City Animal Hospital and could not be happier to bring quality veterinary care to the Belmont neighborhood and surrounding communities in Charlotte! He graduated from the University of Pennsylvania School of Veterinary Medicine in 2008 and received his BS in Animal Bioscience from Penn State University in 2004. He bleeds blue and white and enjoys traveling back to his alma mater in Happy Valley! Dr. Hreiz is a co-owner of Ebenezer Animal Hospital, an AAHA accredited small animal and exotic veterinary hospital in Rock Hill, SC since 2013. He has been working at Ebenezer Animal Hospital since 2008. Jay is a native of Pennsylvania and moved to North Carolina in 2008 after veterinary school. Dr. Hreiz became interested in veterinary medicine when he was a young boy and had a large number of exotic pets including reptiles, amphibians, birds, rodents, and rabbits. He recognized as a kid that there were few veterinarians interested in seeing these unique pets. His interests as a veterinarian include exotic animal medicine (rabbits, rodents, reptiles, and birds), soft tissue surgery, and pet wellness and prevention. He became a licensed judge under the American Rabbit Breeders Association in 2002 and has judged shows across the United States and several foreign countries including Japan. In his spare time he enjoys traveling the world, running, exploring the world of wine, and spending time with friends and family. He and his husband Mike are residents of the Plaza Midwood neighborhood since 2013. They have three fur babies: Two retired racing Greyhounds (aka couch potatoes) Ella and Ollie and a handsome black Domestic shorthair cat, Dax.
Fun Fact: Why does Dr. Hreiz have a VMD after his name instead of a DVM? DVM stands for "Doctor of Veterinary Medicine." VMD stands for "Veterinariae Medicinis Doctoris" which is Doctor of Veterinary Medicine in Latin. The University of Pennsylvania is the only veterinary school that awards their degree in Latin. If you ever see a "VMD" after a veterinarian's name, you know they graduated from Penn's vet school!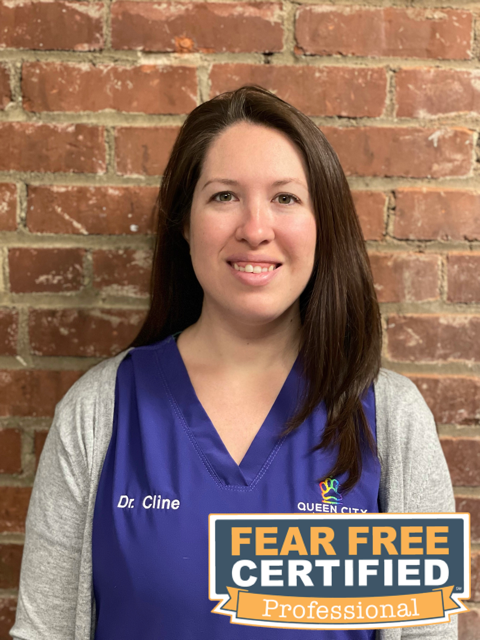 Dr. Lauren Cline
Associate Veterinarian
Dr. Cline moved to Charlotte, NC following her graduation from Auburn University's College of Veterinary Medicine in 2016. War Eagle! She and her husband, Charlie, are originally from South Carolina and Dr. Cline graduated from Clemson University in 2011 with a BS degree in Animal and Veterinary Sciences. Go Tigers!
Dr. Cline has enjoyed putting down roots in Charlotte and is excited to be a part of the Queen City Animal Hospital team. Her professional interests include ophthalmology, dermatology, and preventive medicine and wellness care.
Veterinary medicine has been a life-long childhood dream for Dr. Cline. With an ever changing and growing field, she looks forward to each day as an opportunity to be challenged, learn something new, and continue to grow in her career.
When she's not in the office, Dr. Cline enjoys traveling, hiking, kayaking, and photography. She and her husband share their home with a rescued mutt named Remy and 2 rescued kitties, Bella and Gizmo.
Fun fact: During her undergraduate career at Clemson University, Dr. Cline worked as the marketing director for a major production company bringing entertainment to Clemson, SC. She's had the privilege of meeting and working with several different musicians, comedians, and other artists! Learning and working the ins and outs of the concert industry was an amazing experience and something she will never forget!
"I'm excited to be a part of the wonderful team here at QCAH and look forward to building lasting relationships with our clients and their beloved pets."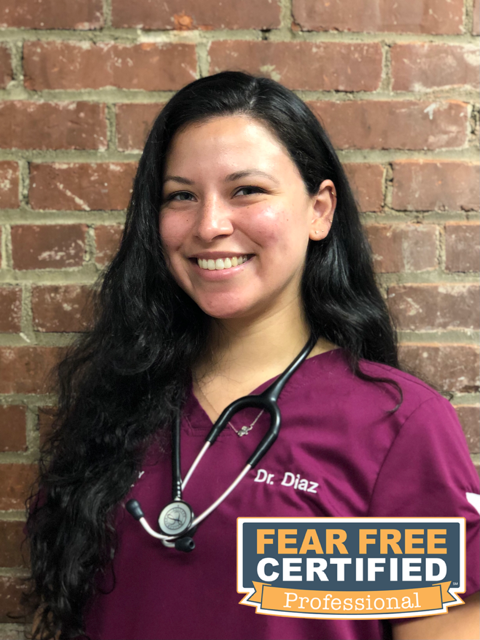 Dr. Alexa Diaz
Associate Veterinarian
Dr. Diaz moved to Charlotte after completing veterinary school at the University of Georgia, College of Veterinary Medicine. She is from Miami, FL, where she graduated with her BS degree in Biology from Florida International University while playing collegiate beach volleyball. Dr. Diaz has loved science and animals her whole life, making veterinary medicine the perfect career for her! She enjoys all the variety that veterinary medicine offers and especially enjoys exotic animal medicine (birds, reptiles, small mammals, fish), anesthesia, radiology and cardiology. Dr. Diaz also speaks Spanish and is happy to see any Spanish-speaking clients. She is so excited to be a part of the team at Queen City Animal Hospital!
In her free time, Dr. Diaz enjoys many outdoor activities, including hiking, fishing, playing sports and exercising. She also enjoys baking, going to the beach and exploring new cities with her boyfriend, Gilberto. Their current roomie is a spunky senior pup named Larry.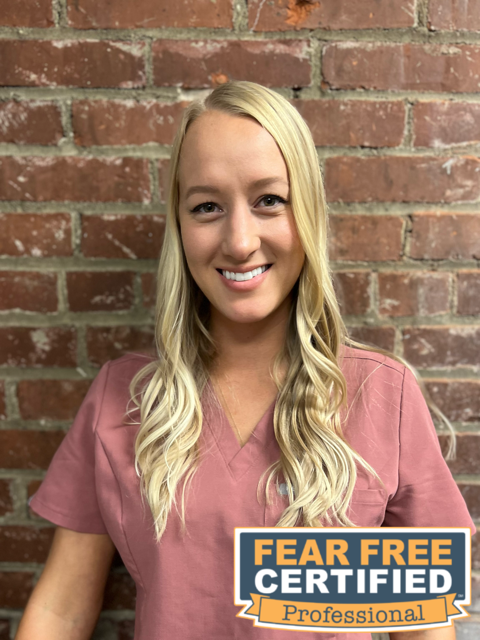 Dr. Claire Black
Associate Veterinarian
We are so happy to welcome Dr. Black to Queen City AH in the fall of 2022. More details about Dr. Black coming soon!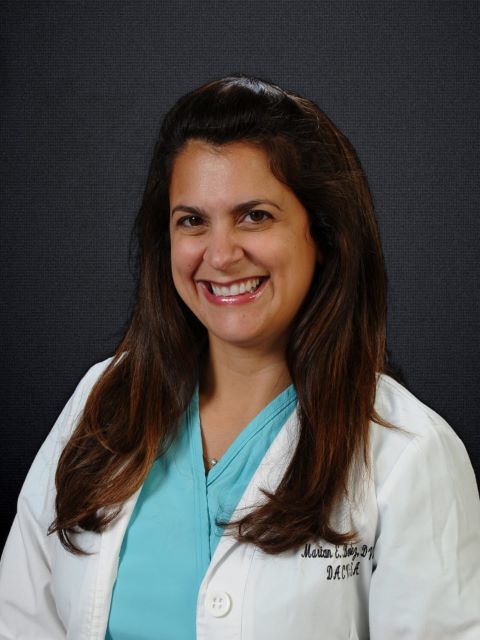 Dr. Marian Benitez
Visiting Veterinarian, Surgeon (DACVS)
Dr. Benitez is a traveling boarded veterinary surgeon who performs specialized surgeries on site at QCAH. She performs procedures for our patients such as Tibial Plateau Leveling Osteotomies, Perineal Urethrostomies, fracture repairs, and more!
Dr. Benitez graduated top of her class at Purdue University College of Veterinary Medicine in 2010. Her desire to pursue surgery led her to advanced surgical training where she completed a medical and surgical internship at the University of Georgia and a three year small animal surgical residency at Kansas State University.
She then completed her required credentials and became a Diplomate of the American College of Veterinary Surgeons in February 2015. She spent three years advancing her surgical skills and training veterinary students, interns and residents as a clinical faculty member at Virginia-Maryland College of Veterinary Medicine. She enjoys all aspects of veterinary medicine and surgery, but she has special interest in orthopedic procedures for cranial cruciate ligament rupture and gastrointestinal diseases. Her Masters of Science thesis focused on pain management considerations of small animals and she is invested in bringing about excellent pain management for her patients.
Dr. Benitez founded DVSC to provide a high quality, personal one-on-one surgery experience for you and your pet. She is excited to bring her skillset, enthusiasm, and compassion to you for surgical consultations and procedures.
[team_member image_url="4382″ team_memeber_style="meta_below" link_element="none" color="Accent-Color" name="April Splawn, JD" description="April is a 2001 graduate from Winthrop University (BA) and received he